What a fantastic turn out we had for our hedge-laying event last month – where we invited all those interested to join us to either watch or help with laying a section of hedging at Lodgefield Farm, Gilling East. Having grown up in this spectacular location perched on the hillside overlooking the Gilling valley, Richard McLane and family welcomed people from the Ryedale district to learn from award winning hedge-layer Edward Caldecott, as he demonstrated the art of hedge-laying and explained the benefits of this traditional craft.

The hedge itself had been planted by Richard McLane's mother 20 years ago and hadn't been touched since. Primarily hawthorn and dotted with a small number of field maple and ash trees, the hedge had reached a height of over three metres and so was in need of some care to sustain its healthy growth. Thankfully we were lucky with the weather and whilst it was a crisp January morning, the sun was shining and it didn't take long to get warm.
With almost 50 people attending throughout the course of the day, attendees were varied, coming from all walks of life, ranging from local farmers and landscape gardeners to engineers, conservationists, builders and children with their parents in home education. Having met people travelling from Scarborough, Beningbrough and Thirsk, it was both rewarding and reassuring to see such a genuine interest in hedge-laying and the associated benefits it offers the farming sector and our natural environment.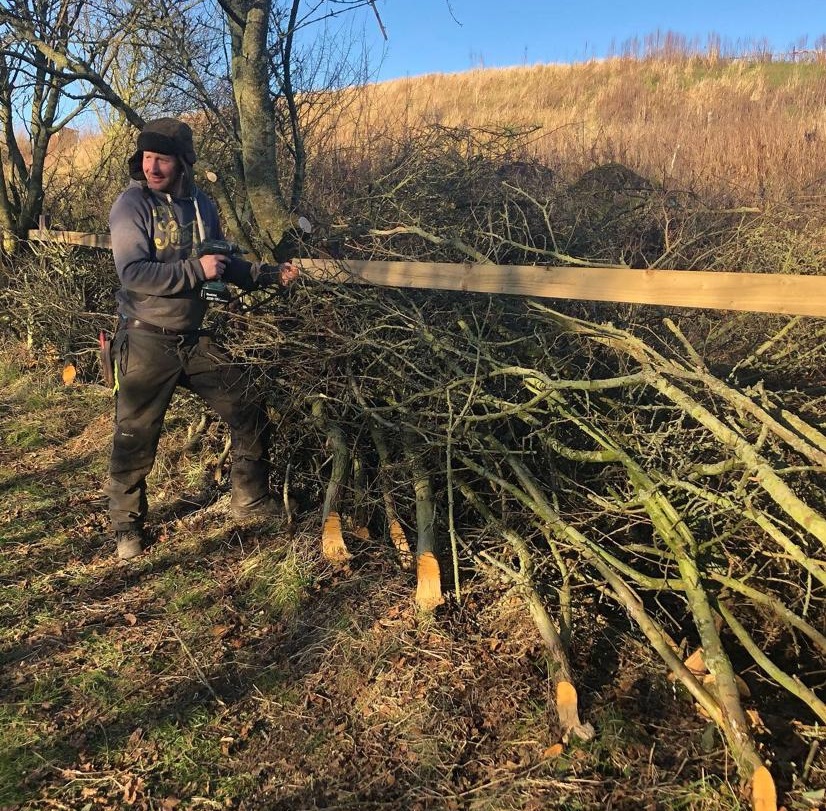 Please do look out for future and upcoming events on our FACEBOOK PAGE – but in the meantime we thought it would be of interest to summarise our hedge-laying technique and highlight why you may want to consider practising this century-old craft yourself:
Why Consider Hedge-Laying?
To prolong the life of your hedgerow and help new growth flourish
To create a life-long boundary for containing stock and animals for farming purposes
To rejuvenate stunted, bare-stemmed hedging; neglect remains their primary threat
To overcome the damage caused by excessive use of herbicides and over-cutting
To encourage new growth from the base, enhancing and maintaining our landscape
To improve your local biodiversity, creating a haven for wildlife and helping nature thrive
10 Steps To Successful Hedge-Laying
The best time of year to lay your hedge is whilst the plants are dormant and bird activity is at its lowest, typically October to March each year.
Before you begin, check the regional style of hedging which is typically adopted in your area. Here in Ryedale we prefer the Yorkshire style – however THIS WEBSITE has some helpful advice when making this decision.
Clear out dead wood from beneath the hedge and remove all growth which is out of line – this provides clear access to carry out subsequent steps.
Select evenly spaced pleachers (the main stems that are cut and laid). Younger stems will regenerate more successfully than the older more mature pleachers. N.B the larger field maple trees were not laid as they crack very easily.
Remove vigorous species such as Elder, as these cannot be laid successfully and they will suppress other plants as they try to re-establish themselves.
Cut pleachers so that the trimmed stump sits circa 5-10 cm above the ground – ensuring beforehand, that the tops aren't tangled in the rest of the hedge which allows them to fall freely.
Whilst you should not cut right through the pleacher in order to give the best chance to re-grow, you must cut far enough so it can lower in to its new position without being forced.
All pleachers must be laid to the same angle and ideally should be laid uphill to help the flow of sap.
The McLane family would like to take this opportunity to thank all those who attended their hedge-laying event for their enthusiasm and interest – and for making the day such a memorable occasion. They look forward to seeing their freshly laid hedge flourish over the years to come and hope to see some of you again at future events.
Please remember to follow their Facebook page to keep up to date.