Greens claim second place to the Tories in the Kirkbymoorside & Dales division, raising their overall number of votes across the Ryedale district by 159% compared to the same election in 2017.
Having only entered politics very recently, local business owner and Green candidate Richard McLane, more than doubled the number of votes in his area to 549 in May 2022 from just 170 achieved five years previously, coming a close second to Greg Wright who was representing the Tories.
After visiting every home and farm in his division, from Bransdale to Rosedale and Kirkbymoorside up to Cropton, Richard summarises the experience as 'both life-changing and an utter privilege to have met and listened to how so many interesting people live in the unique surroundings we can all call home.'
Having gained a clear understanding of the real challenges people in our community are facing, Richard is saddened he won't be representing them on the Council. He does however feel incredibly grateful for the support he received throughout the campaign, having built such a strong following in what was a relatively short space of time.
A Green Surge or A Protest Vote?
Richard's success in this campaign is characteristic of the Green surge we've seen nationwide during the local elections, with the party having achieved a record 545 councillors on 166 councils, in comparison to 445 councillors on 362 councils in 2017.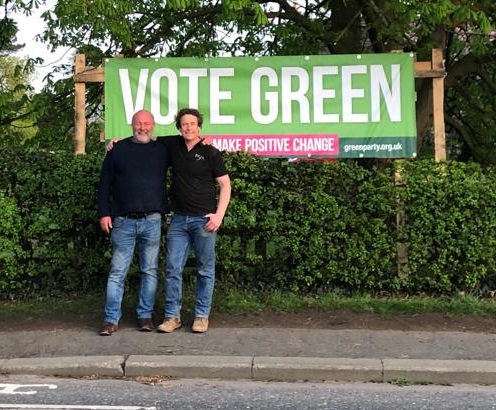 Five of these councillors were elected on to North Yorkshire's County Council (with several close seconds) – compared to zero wins five years ago in the same region.
In particular the Green's strong track record to influence localised, relatable issues – giving their candidates the freedom to do what is best for their community – has certainly been a highly influential factor in their success in Ryedale.
From the results across the Ryedale district, we can see that the 159% rise in voter support for the Green's, was largely at the expense of the Conservative and Liberals.
Table 1: Greens achieve greatest rise in voter support compared to 2022
| | | | | | |
| --- | --- | --- | --- | --- | --- |
| RYEDALE DISTRICT | % Change | 2017 | | 2022 | |
| Conservative | -17% | 8628 | 55.1% | 7175 | 44.5% |
| Labour | -5% | 1066 | 6.8% | 1014 | 6.3% |
| Green | +159% | 710 | 4.5% | 1845 | 11.4% |
| Liberal | -16% | 1742 | 11.1% | 1469 | 9.1% |
| Lib Dems | -2% | 1956 | 12.5% | 1924 | 11.9% |
| Independents | +71% | 1554 | 9.9% | 2659 | 16.5% |
| Yorkshire Party | | 0 | 0.0% | 50 | 0.3% |
| Total | | 15656 | | 16136 | |
Across all divisions in Ryedale, Greens received support in 5 out of the 8 newly formed divisions (63%) compared to 2 out of the 6 seats available (33%) in 2017. In recognition of the increased support the Green's received, winner of the Kirkbymoorside and Dales division Greg Wright made his way to Richard after the count was confirmed, asking in his opinion, 'what the Conservatives needed to be prioritising'.
In his conversation Richard made reference to the need for a focus on the environmental crisis we face, reminding Greg of the recent motion he had himself drafted declaring a climate emergency and extending his offer of support in pushing this through, should it be needed.
"Our constituents expect that simple steps and incentives towards reducing our environmental impact are now made standard and encourage, for example, the increased use of sustainable packaging; providing widespread access to vehicle charging points and; ensuring all new properties are built as energy efficiently as possible," Richard confirms. "Any politician who is not willing to make these initiatives a priority is sealing their fate and will eventually suffer as a result."
Whilst the Ryedale district had the highest electorate turnout (38.9%) in North Yorkshire, Richard observed with concern, the disconnect between young people and politics.
"Having spoken to so many of the younger generation over recent weeks, it was quite depressing to learn of the distrust they have in politicians and their refusal to go out and cast a vote" Richard comments.
"Our politicians have a duty to reverse this inclination and need to think hard and fast about why this segment of our voters have become so disengaged."
"Time will tell if my conversation with Greg was genuine and whether he is going to take our division's environmental concerns seriously. The Green's success can clearly be attributed to how hard our representatives are working to resolve localised issues, which contribute to global problems that will inevitably affect us all," Richard concludes.
So What Next?
Well to provide some solace to all those who placed their trust in Richard, he now commits to continue on his quest and influence the priorities he campaigned on – in particular helping to secure the future of family farms and drive increased local food production within the Ryedale district.
He also plans to play an active role in pushing effective policy change through, by persistently communicating with our political leaders on the things that matter to the people in our area.
Please feel free to contact Richard if you have issues or concerns that you believe the government should be taking action on. And thanks again to all those who took the time to vote and offer their support to Richard in this election campaign. Email: mclanesustain@gmail.com